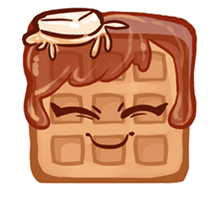 Hi! I am Rin, known around the interwebs as "Waffles." I currently update my youtube channel once-a-week. (For three years strong now!) So there is loads of content on there to sift through. This includes speedpaints, tutorials, and sketchook flip-throughs.

All my official social media sites are linked below.

READ MY WEBCOMIC, NOW!
Looking for updates on my webcomic, Magna Girl? Cool! Click the link above for updates or to read the comic! You can also check out the current cast page,
click here.